Pick of the month : 2666 by Roberto Bolaños."True life, life that is eventually discovered and elucidated, the only life, thus, which has been really lived is literature," says Proust in In Search of Lost Time.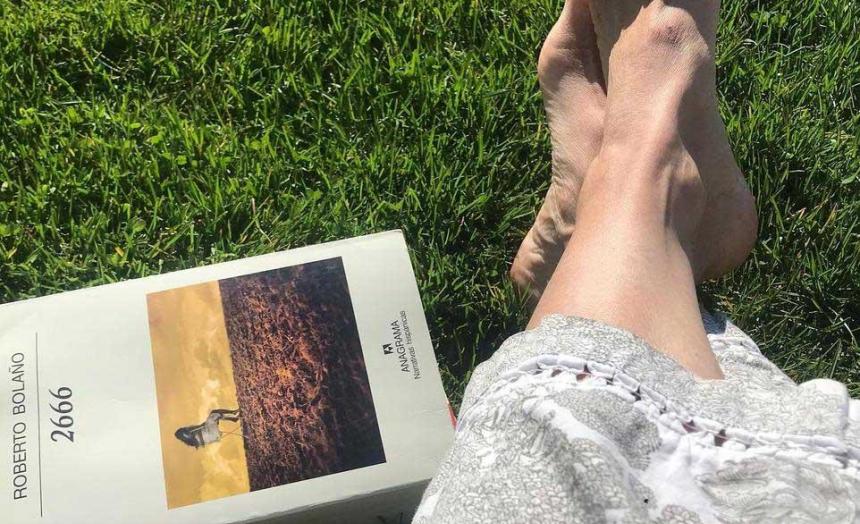 - « La cuillère ne serve plus maman a été lâchée », dice Rapha.

-"Lamida o lambida"? (Two Spanish variants for 'licked'). "How do you say it? asks the host of a radio from Mexico City.

I start doubting how we say things in Spanish and I tremble. There is the radio to remind me of what I'm forgetting.

-"I love to be here, mom, on this side of the shore," says Emma.

-"Yes", I reply. "We see life from this side. I've also felt the same way."
I started reading 2666, a posthumous novel by the Chilean writer,  at the beginning of lockdown due to COVID-19. I was looking for the hidden side of a Mexico that had bewitched me. I was also after the traces of that first trip, which I had decided to make, not as an evasion, but as a creation of other worlds for me, of other forms of femininity.
On my first trip to Mexico, I arrived in the city of Oaxaca and I walked along the streets, inventing its history myself, in the corners, in the squares, in the churches, in a book shop, in food stalls, in its people and bars. Its culture contained in textile or modern art museums moved me as much as its markets or the bougainvillea creepers covering the walls. For me, it was a city inhabited by cronopios, I mean…
On my second trip, my enchantment was intact. But this time it was more urban. The huge historical buildings – which oblige you to look up, and up, and up until you almost fall on your back  to be able to see the whole monument  -the glass curtain at the Palace of Fine Arts, the book shops and libraries or temples, the Torre Reforma- and I, standing at Paseo de la Reforma street, didn't know whether to cross the street or keep listening to the sounds of a city that is talking to you all the time. I was stuck at the corner of Reforma, feeling the breeze that uplifted me "because at that time a spare night wind runs along Reforma" (Amuletto, Bolaño 1999).
Mexico has that power that pulls you and even the Chinese with their ancient culture end up cooking with corn and avocado; I suppose this wouldn't be the case in Buenos Aires.
2666 is a novel about Mexico. It is vast and ambitious with death lurking around. It is divided into five parts, which can be easily read separately. Bolaño spent the last years of his life into this work. I wonder whether he was both trying to find himself and to say goodbye in such a vast country with such a colossal work, which opens way into the unknown all the time.
"The writing of 2666 took up the last years of Bolaño's life but its conception and design date back to other pieces, specially those he published after finishing The Savage Detectives (1998), which not by chance does it finish in the Sonoran desert," says Ignacio Echeverría in Notes to the First Edition (2004).
Bolaño as well as the characters in the novel build a certain sense and a way of escape or flight which converge in Santa Teresa. According to Ignacio Echevarría, "In one of its many articles related to 2666,  Bolaño points out at  the existence of a 'hidden centre' that would hide under, so to put it, its 'physical centre'. There are reasons to think that such physical centre would be the city of Santa Teresa, representation of Ciudad Juarez, on the border between Mexico and the United States".
The five parts the novel is divided into converge in Santa Teresa. Which is that line of flight the sense of the book is oriented to? A high sense of risk, a senseless desire to see it all… and so following Archimboldi –one of the protagonists-,  the reader is carried to the last pages and left with the feeling that although the novel cannot cover it all, the eye of the narrator has indeed seen it all.
As a reader, in the chapter about the crimes and countless victims, I found the countless ways of my femininity that I'd started exploring on my first trip to Mexico. I trembled with fear and I found refuge at home, in my neighbourhood and my city and ended up thinking that such chapter should be read in all the  schools  from my Latin America.
I finished reading 2666 in Georgian Bay, Ontario, at the time my favourite radio programme from Mexico City would start. It has nothing and all to do with it. We get to certain places as we get to books, trying to understand our own centre by means of a physical centre that attracts us from the Earth. It is that core we have inside, that indomit side where an imaginary bridge connects the real and fictional worlds, where using our own imagination and out of the pure pleasure of being we can create and free ourselves.
And so, by reading our world ends up finding another world. I'm drinking mate, and if I had, I'd drink mezcal.