Sun, Oct 1 2023, 7:17 - 8:17pm
Latin American Heritage Month 2023
The fifth edition of Latin American Heritage Month begins. The Legados Institute is a founding member of this important event for our Latin American community and for all Montrealers.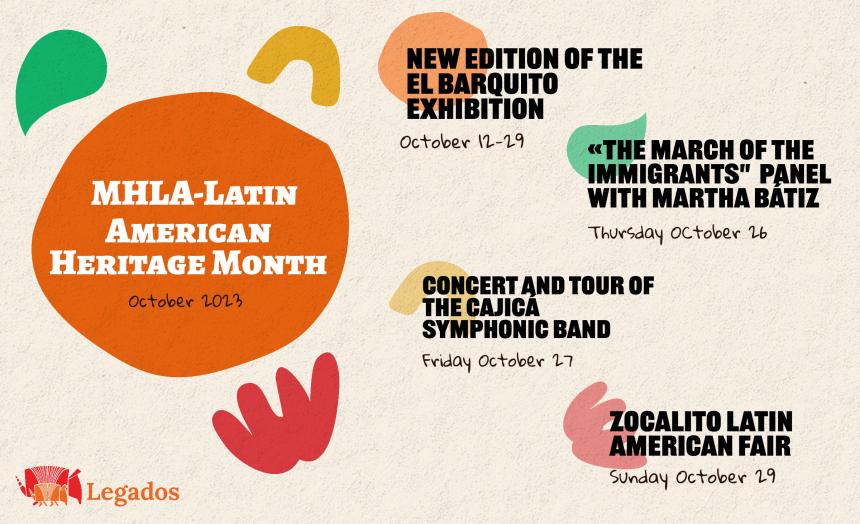 This month of celebrations will feature a variety of activities with a strong intercultural flavour: a new edition of the El Barquito Tribute Exhibition|, a Panel, a Concert and Zocalito, the classic Latin American Fair in Legados.
The month of October is themed around a series of activities to highlight and celebrate both the work and the journeys of people who have been uprooted from their homelands to live here in Canada. This country is a land of welcome that has given them a new horizon, and that inspires and shapes us to live better together.
The activities proposed during Latin American Heritage Month seek to facilitate the preservation of cultures and language by reinforcing the question of identity, as a vehicle for social cohesion, the fight against racism and the success of people from immigrant backgrounds.

Opening de l'Exposition EL BARQUITO new edition
The independent curator Claudia Arana proposes a new reading of the cycle work Homage to Daniel Moyano in augmented reality, the work of the artist Eve Méthot, contributing new elements that will be on view from 12 October at the Legados institut.
An unpublished podcast of three listening sessions based on discussions with the writer and specialist Marcelo Casarin, with Ricardo Moyano, the writer's son, and with the specialists in Latin American Art and Culture Diego Vigna and Jordana Blejmar, and a performance by Crisitina Jiménez are the pieces incorporated into this new edition.

Walking immigrants
A round table to celebrate the immigrant women who inspire us, to listen to their stories of immigration and uprooting, where uncertainty and fear rub shoulders with the outstretched hands of the land that welcomed them. A panel to listen to the voices of courageous and supportive women who contribute in their daily lives to weave a truly intercultural fabric. With the special participation of writer Martha Bátiz.
How does writing and art contribute to keeping this legacy alive outside our countries of origin?
Come and talk with this prolific writer, learn about her stories, her prose, the things that inspire her to write and keep a language alive and also to write in other languages and to live among languages without renouncing to an identity mark.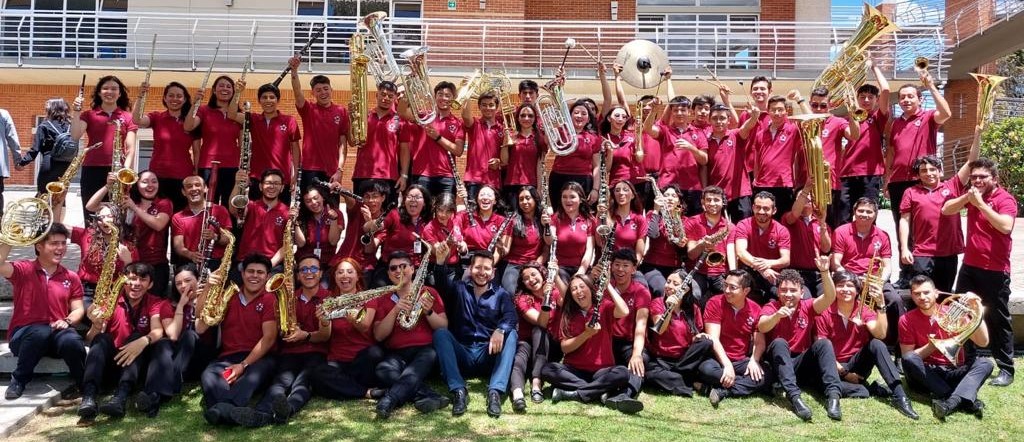 Cajica Symphonic Band, Colombia
This October, Montreal has the honor of welcoming 65 young musicians from the Symphonic Band of the municipality of Cajicá, Colombia, who are part of the exciting "Canada-Colombia 2023 Intercultural and Musical Project," an initiative organized by Pilar Jiménez in collaboration with the Legados Institute. This exchange, taking place from October 23rd to 27th, 2023, will encompass a series of enriching activities that go beyond concerts, including masterclasses and various intercultural experiences.

Zocalito Latin American market edition Día de Muertos and Latin American Heritage Month
This year, the Zocalito - Mercado Latino is in sixth edition and is part of the program for the celebration of Latin American Heritage Month in Montreal. Legados celebrates this month with the aim of promoting the social and cultural manifestations of Latin American residents in Montreal.
You can come and enjoy a Latin American market, unique in Montreal, with eight stands of handicrafts, from textiles to cosmetics to typical dishes. On Sunday, October 29, from 10 a.m. to 6 p.m., in our offices at 4510 Cartier Street, suite 202, we will welcome you with the originality of Latin American crafts, from Mexico to Argentina.
We look forward to celebrating the love of culture together and contributing our heritage to this diverse intercultural society!