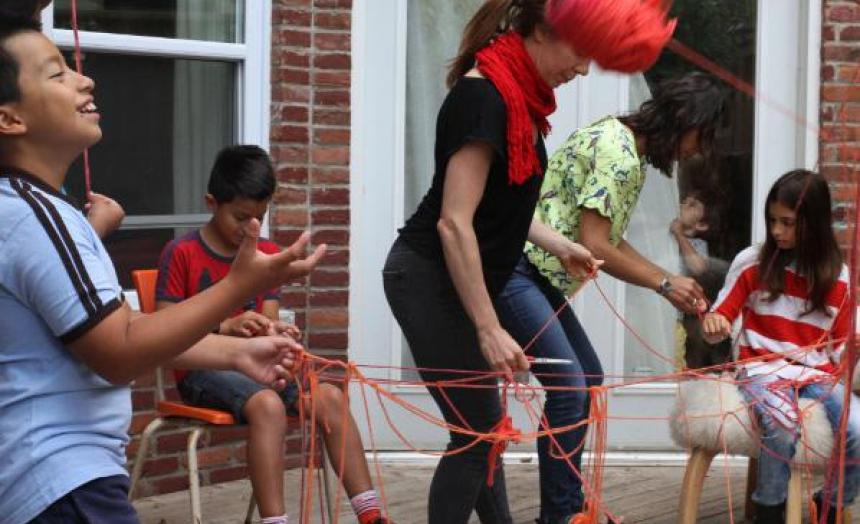 The Bicicleta course is for children from 6 to 11 years old. It is offered in pedagogical pairs, each course works with its own teacher and/or specialist: a language teacher (Spanish in use) and another dedicated to the teaching of the artistic discipline.
SCHEDULE BICICLETA: SATURDAYS FROM 10:15AM TO 12:30PM
AUTUMN SESSION (SEPTEMBER 16 - DECEMBER 9)
WINTER SESSION (JANUARY 13 - MARCH 23)
SPRING SESSION (APRIL 6 - JUNE 8)
Bicicleta 1
Bicicleta consists of 3 levels: the first one, Bicicleta 1, works in a dialogical relationship with dimension 1, Where do we live? and dimension 2, Where do we come from? and the development of discursive, descriptive and narrative levels. From Bicicleta 1, we begin to work on written expression. The artistic discipline explored is singing and music. The thematic axis serves to deepen the concepts previously discussed and motivates the exchange with peers and with their environment. The choice of literature is adapted to this age group and offers a thematic diversity linked to the diversity of literary texts that vary each week.
Bicicleta 2
In Bicicleta 2, as the linguistic, communicative and intercultural skills are more developed, a thematic axis is proposed per session, whose content is maintained throughout each session. The literature is specific and allows us to deepen the theme of the session. We work with longer readings and texts, which can be used in more than one meeting.
Bicicleta 3
In Bicicleta 3, we work from a specific artistic discipline in each session from which the process of learning the language and culture is addressed. Bicicleta 3 is therefore composed of the language and literary creation workshop "Chirimbolos" (content in Spanish only), visual arts and theater. It is designed for an advanced learner. Each discipline works with different literary genres, deepening reading and writing, oral communication skills, vocabulary, grammar in context, and Latin-Canadian socio-cultural content.
---
Authentic materials and productions are adapted to the interests and needs of the speakers in order to strengthen the link with the language and cultures of origin and to facilitate the encounter between the current French/English speaking world and the memory and identity of the Spanish speaking world.
Descuento familiar
1st student: full rate
2nd student : -5% discount
3rd student : -5% discount
Español en Bicicleta 1 - AÑO COMPLETO (3 sesiones)