Zocalito - Latin American market
It is an event organised by Legados to sell and promote Latin American crafts.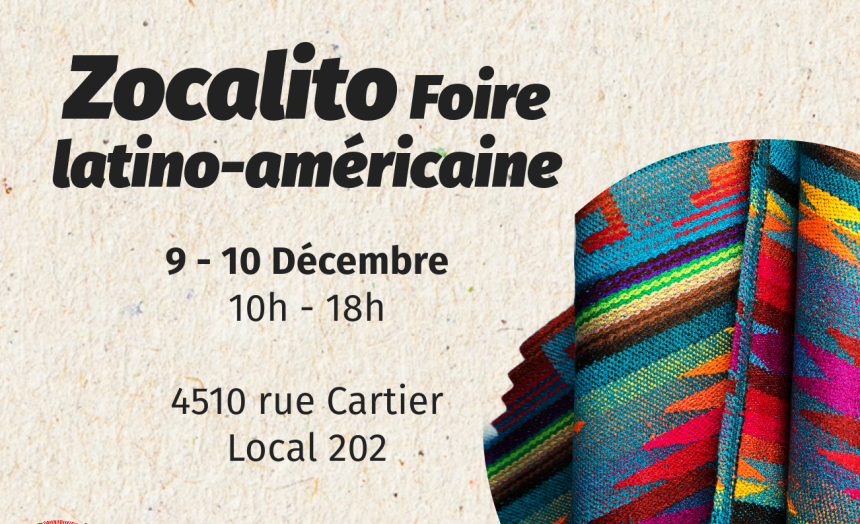 This year, the Zocalito - Mercado Latino is in its fifth edition and is part of the program for the celebration of Latin American Heritage Month in Montreal. Legados celebrates this month with the aim of promoting the social and cultural manifestations of Latin American residents in Montreal.
You can come and enjoy a Latin American market, unique in Montreal, with eight stands of handicrafts, from textiles to cosmetics to typical dishes. On Sunday, October 29 from 10 a.m. to 6 p.m., in our offices at 4510 Cartier Street, suite 202, we will welcome you with the originality of Latin American crafts, from Mexico to Argentina.
Call to participate as an exhibitor in Zocalito
As part of the celebration of Latin American Heritage Month in Montreal, we invite you to participate in the Zocalito, Latin American market, as an exhibitor in our space.
To participate, your project or brand must be handicrafts and must originate from Latin America. You must contact us by sending an email to the following address: info@legados.ca with the following information
* Name and description of your brand or project
* 3 photos of your products
*For terms and conditions please read this document.
Cost of the table per day: 150$ tx included
Deadline for submission: October 21, 2022.
Guests
Yolita Lepesqueur is a Latin-Canadian artisan of Colombian origin, founder of Madame Botanica, a purely botanical art project, which offers herbal and aromatherapy preparations made with natural ingredients for conscious personal care.
Place
4510 Cartier Street, local 2022, Montreal, QC, H2H 1W8