Thu, Oct 26 2023, 6:30 - 8:30pm
Panel - Round Table: Walking immigrants
Roundtable with the special participation of writer Martha Bátiz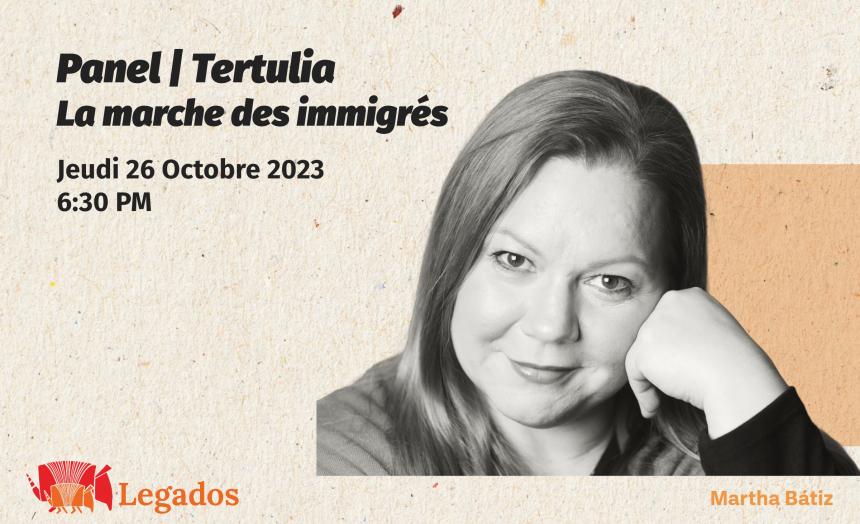 A round table to celebrate the immigrant women who inspire us, to listen to their stories of immigration and uprooting, where uncertainty and fear rub shoulders with the outstretched hands of the land that welcomed them. A panel to listen to the voices of courageous and supportive women who contribute in their daily lives to weave a truly intercultural fabric. With the special participation of writer Martha Bátiz.
"Cien años, cien inviernos, pienso, en todo lo que va de este siglo, no han visto un día tan frío como este..." 
But what is the point of transmitting and preserving a language? How does writing and art contribute to keeping this legacy alive outside our countries of origin?
Come and talk with this prolific writer, learn about her stories, her prose, the things that inspire her to write and keep a language alive and also to write in other languages and to live among languages without renouncing to an identity mark.
Guests
She was born in Mexico City, but has lived in Toronto since 2003. Her stories and articles have been published in Mexico, United States, Canada, Ireland, England, Australia, Peru, Costa Rica, Puerto Rico, Chile, Dominican Republic and Turkey. She is the author of the short story collections A todos los voy a matar (2000), De tránsito (2014) and Plaza Requiem: Stories at the Edge of Ordinary Lives (2017), and the short novel Boca de Lobo (2008), translated into English (Damiana's Reprieve, 2018) and French (La Gueule du Loup, 2019). Editor of the anthologies From the North: contemporary Canadian narrative (2015) and Nostalgia below zero (2020), and member of the editorial board of Toronto Stories (2016) and Montreal Stories (2019).  PhD in literature, teacher and translator, founder of the Creative Writing in Spanish courses at the University of Toronto's School of Continuing Education, unique in Canada. Named by Latinos Magazine among the ten most successful Mexicans in Canada, and selected among the Top 10 Most Influential Hispanic-Canadians (2014) by the Hispanic-Canadian Congress and the Hispanic Business Alliance (2015). Her new short story collection No Stars in the Sky appeared in May 2022 under the prestigious House of Anansi Press imprint, and is already translated into Turkish.
Place
Legados Insititut - 4510 Cartier St, Montreal, Quebec H2H 1W8